If your PlayStation 4 gamepad is damaged or lost and the Sony DualShock controller seems an unaffordable option, you can get a controller of another brand. However, with many companies offering alternative controllers, it is usually challenging to choose the right one.
The Best 3rd Party PS4 Controller
The best 3rd Party PS4 Controller based on capabilities and cheap price ($64 average) is the Hori PS4 Mini Wired Gamepad. However, SCUF represents high-quality 3rd party professional gaming controllers that cost around $229 and offer features like paddle controls, interchangeable thumbsticks, and trigger stops for enhanced gameplay.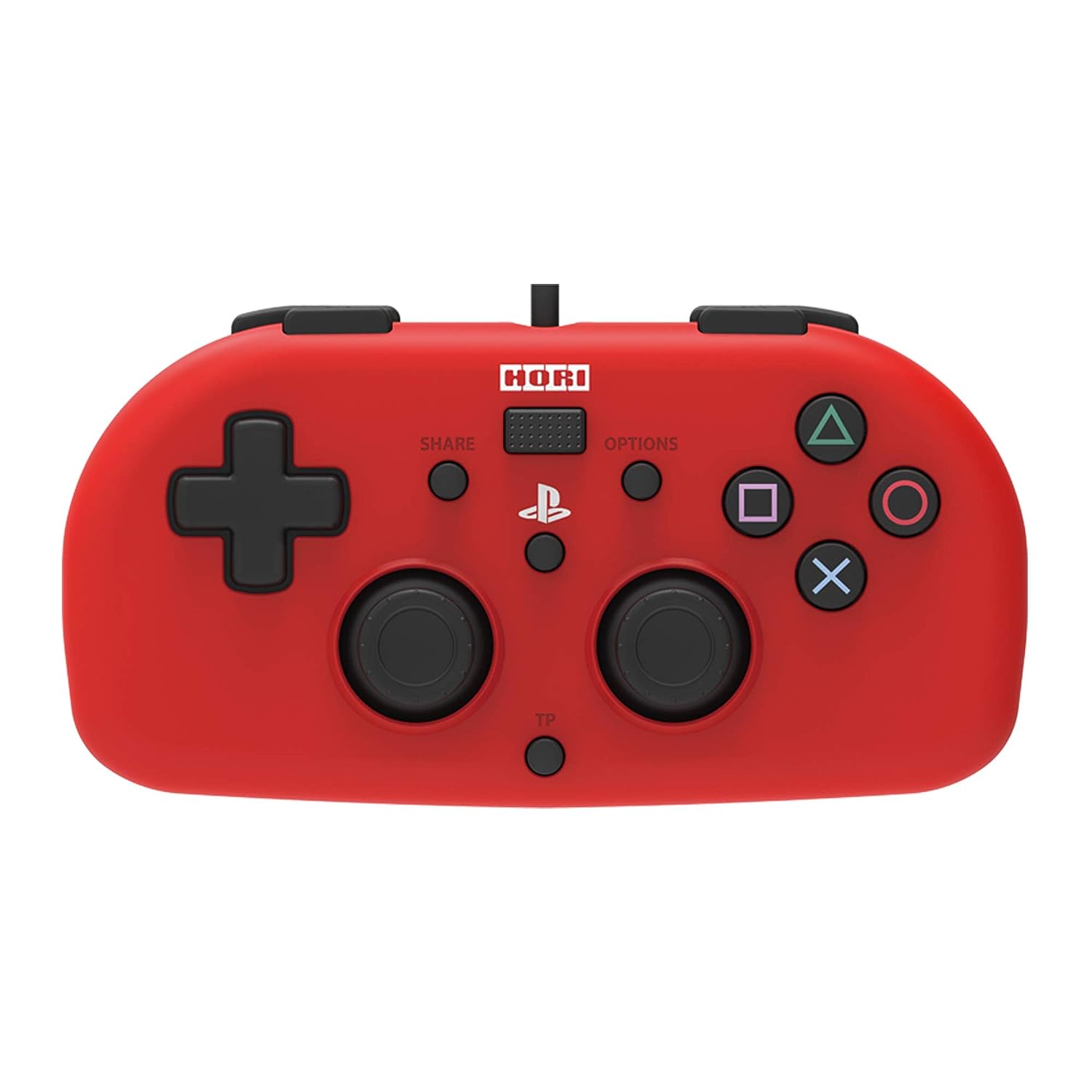 From my standpoint, the Hori PS4 Mini Wired Gamepad stands out for several compelling reasons. Its compact design fits snugly in my hands, making it exceptionally comfortable for extended gameplay.
I appreciate its straightforwardness, as it offers a no-frills gaming approach without compromising essential functions. The wired connection ensures I experience minimal input lag, providing a consistent gaming performance. Its affordability is a significant plus, offering a reliable alternative without burning a hole in my pocket.
Lastly, coming from a reputable brand like Hori, I trust its build quality and durability, making it a fantastic choice for casual gaming sessions and more intense bouts.
Hori PS4 Mini Wired Gamepad ($64 average):

Affordability: Priced around $64, the Hori Mini is a budget-friendly option, making it accessible to a broader range of gamers.
Capabilities: While the Hori Mini retains essential gameplay functions and is especially suitable for younger players or those with smaller hands, it lacks some advanced features in pricier models. Its wired nature ensures minimal input lag but can be restrictive regarding mobility.
Target Audience: It's an excellent choice for casual gamers, those on a tight budget, or as a secondary controller for guest players.

SCUF Controllers (Around $229):

Premium Price Point: SCUF controllers fall into the premium category in pricing, which might not be feasible for everyone.
Advanced Features: SCUF controllers come packed with features geared towards severe and competitive gamers. Paddle controls offer an edge in competitive scenes, while interchangeable thumbsticks and trigger stops allow users to tailor their controllers for specific game genres or personal comfort.
Build Quality & Customizability: SCUF controllers are known for their robust build and high degree of customizability, both in function and aesthetics. This makes them a preferred choice for gamers who want their controllers to reflect their personalities or gaming styles.
Target Audience: These are best suited for hardcore gamers, professional players, or those who view gaming as a significant hobby and are willing to invest in top-tier equipment.
Hori PS4 Mini Wired Gamepad
Hori's PS4 Mini Wired Gamepad stands out as a distinctive option. Designed for those who value simplicity and affordability, this controller challenges our perceptions of what a PS4 controller should be.
Here's a detailed review:
Design & Build: The first thing you'll notice about the Hori Mini is its compact design. It's notably smaller than the standard DualShock 4, making it especially suitable for younger players or those with smaller hands. Despite its reduced size, the build quality feels solid and doesn't come across as "cheap." The button layout is familiar, but it lacks features like the light bar and speaker.
Performance: The wired nature of the Hori Mini ensures a consistent and lag-free connection to the PS4. This can be crucial in fast-paced games where reaction time is everything. The buttons and thumbsticks are responsive, providing tactile feedback that's on par with more expensive controllers.
Features: While the Hori Mini does well in essential gameplay functions, it falls short in advanced features. The absence of a light bar, touchpad, built-in speaker, and gyroscopic functions means some games requiring these features might not be fully compatible. However, for the vast majority of games, these missing features won't be an issue.
Comfort & Ergonomics: The Hori Mini is surprisingly comfortable for its size. Its lightweight nature reduces hand fatigue during long gaming sessions. However, those with larger hands might find it a bit cramped after extended use.
Value for Money: Considering its price point, the Hori Mini offers excellent value. It performs the primary functions of a PS4 controller reliably, and while it doesn't have all the bells and whistles of the DualShock 4 or premium third-party controllers, it gets the job done for a fraction of the price.
3rd Party PS4 Controllers List
Here's a list of PS4 controllers sorted alphabetically with their descriptions:
Hori PS4 Mini Wired Gamepad:

Description: This compact wired controller is designed for younger players or those with smaller hands. It offers a simpler design than the standard DualShock 4 but retains all essential functions.
Best for Players looking for a more compact and straightforward controller.

HORI PlayStation 5 Fighting Commander OCTA:

Description: A controller designed primarily for fighting games. It offers a six-button layout on its face and a directional pad optimized for precise inputs.
Best for: Fighting game enthusiasts.

Horipad FPS Plus:

Description: A wired controller designed with FPS players in mind. It has a slightly larger design than the standard DualShock 4 and offers turbo functions.
Best for: Players who frequently play first-person shooters.

Nacon Asymmetric Wireless Controller:

Description: This controller offers an Xbox-style asymmetrical thumbstick layout. It combines the benefits of wireless freedom with the precision of a wired controller.
Best for Players who prefer an Xbox-style layout with wireless capabilities.

Nacon Revolution Pro Controller 3:

Description: Building on the features of its predecessors, the Revolution Pro Controller 3 offers enhanced customization options, including programmable buttons and adjustable weight compartments. It's wired, ensuring lag-free gameplay.
Best for: Players looking for a mid-range, highly customizable controller.

PDP's Victrix Pro BFG Wireless PS4|5 controller:

Description: This is a wireless controller designed for both PS4 and PS5. It offers a robust build quality and premium features tailored for competitive gameplay.
Best for: Players looking for a top-tier wireless gaming experience on PS4 and PS5.

SCUF Impact Pro:

Description: SCUF is known for high-quality professional gaming controllers. The Impact Pro offers paddle controls, interchangeable thumbsticks, and trigger stops for enhanced gameplay.
Best for: Competitive gamers or those looking for a professional-grade controller.

Sony DualShock 4 Wireless Controller:

Description: The official PS4 controller combines revolutionary features and comfort. With its touchpad, integrated light bar, and built-in speaker, it offers an immersive gaming experience.
Best for Players who want the standard, reliable, and official PS4 controller experience.
Each controller has unique features and strengths, catering to different players and their preferences. Always consider the specific needs of your gaming style when choosing a controller.
List of 3rd Party PS4 Controllers with License
Astro C40 TR

USB: YES
Wireless: YES (Adapter)

Hori PS4 Mini-Pad
Horipad 4 FPS
Horipad FPS Plus
Mad Catz Street Fighter V FightStick TE2+
Nacon Compact Wired Controller
Nacon Revolution Pro v1
Nacon Revolution Pro v2
Nacon Revolution Pro v3
Nacon Revolution Unlimited Pro

USB: YES
Wireless: YES (Adapter)

PowerA Fusion Pro
Razer Raiju Tournament Edition
Razer Raiju Ultimate
Scuf Infinity4PS Pro (DS4 v1 Model)

USB: YES
Wireless: YES (BT)

Scuf Infinity4PS Pro (DS4 v2 Model)

USB: YES
Wireless: YES (BT)

Scuf Impact

USB: YES
Wireless: YES (BT)

Scuf Vantage
Scuf Vantage 2
Below are presented the essential questions about PS4 controllers:
Conclusion
No doubt, it can be a bit confusing to pick a suitable third-party controller; you can choose one based on your personal preferences. The above-listed options work well and function like the DualShock controller, even if they appear different. The majority of these controllers can be used for gaming on PC, too. Further, the companies keep on updating their versions to improve their functioning.
Before purchasing third-party controllers, check their compatibility with your most preferred games and PlayStation.