A Heavyweight of the Gambling Industry
Gambling is a firmly entrenched part of society that, although shunned and disregarded by some sectors of society, simply appeals to a vast cross section of the population. It may seem that gambling, by nature, is not supposed to yield any long term benefit, nor is it supposed to be any kind of sustainable habit that people should adopt, but despite the relative drawbacks that may come with gambling, it still remains immensely popular. Gambling remains popular because there is simply nothing that can come close to the thrill of having a large amount of money on an outcome that is completely dependent on chance, and while there is something to be said about how skill, experience, and knowledge can help improve the odds of a win, at the end of the day, luck is still the determining factor. However, most people who love to gamble still cling to the idea that they are the ones who ultimately determine whether or not they will win or lose money, and this is why gambling on sports is still popular practice, as can be attested to by the traffic at Titan Bet.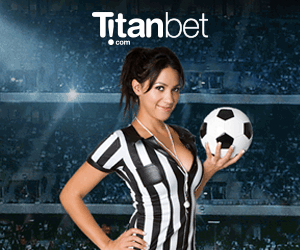 The History of Titan Bet
Titan Bet was launched back in January of 2011, and armed with a specially made betting platform from the folks at Playtech, the website sought to bring sports gambling to a wider population, and it has managed to do so successfully thus far. In addition to this sports gambling website, Titan also has other addresses on the World Wide Web that people can visit for games and prizes. Those websites are Titan Poker and Titan Casino, offering the popular card game as well the standard casino fare for customers respectively.
What It Looks Like
Titan Bet looks just like what you would expect it to if you had any previous experience dealing with other gambling websites. The three-column layout is typical of this kind of website, and Titan Bet does not shy away from it. Instead, the website makes great use of the three-column presentation to provide a more organized and generally cleaner feel to the website itself. This kind of design makes it easier for both seasoned veterans of sports gambling as well as neophytes, to pick up how the site works and immediately get to what they are there for, which is gambling. The website did introduce a new element recently however, and it comes in the form of its interface. Thanks to the upgrade, it is now easier for users to view the odds for particular games, and it also makes it less of a headache to keep track of all the bets that have been placed. The improved betting slip presents the information about the wagers in a more concise manner, and all the information is all quickly displayed for users to enjoy. All betting options are also displayed on individual betting slips to make the whole process easier and faster.

Sports Markets for Titan Bet
Titan Bet offers coverage on all the sports markets that you would expect for gambling. All the famous leagues that feature games that could draw wagers are all on offer from Titan Bet, however not all of them are covered extensively. For example, the NBA, which is a popular basketball league in North America, is presented only with the most popular betting options that are commonly found elsewhere on the World Wide Web. Football however, is covered in great detail, featuring several different gambling options for any individual who may be looking to make a winning wager sometime soon. There is a clear market that the website caters to, but that does not mean that those on the outside should feel apprehensive about using the website's services to place wagers. In truth, the website just has enough to offer the typical sports gambler all that he or she could be looking for.
Betting on Live Sports
Gambling on live sports is one of the most exciting experiences any person can have. The rollercoaster of emotions that people take a ride on whenever they choose to do this is unlike anything else that they have experienced previously, and that makes it all the more appealing to casual and veteran gamblers alike. Fortunately, Titan Bet also offers this kind of service. As you would expect, the live betting service features a well-made layout to properly convey all the pertinent information as they come into the website. The updates are provided immediately so that gamblers following the action using the website can keep track of all their bets easily without having to go to other places on the web or finding a specific game on television. To avoid any sort of confusion, Titan Bet also uses different graphics for different sports so that someone monitoring multiple live games will find it easier to keep tabs on all that is happening. The website also provides a calendar for all of the live games they will be taking action on so that gamblers can prepare in advance.
The Final Word on Titan Bet
After extensive evaluation of what the website as well as its competitors can offer, the verdict is in, and it states that Titan Bet is a more than acceptable betting platform for anyone looking to give it a try. Admittedly, there are few options available for those who may be looking for specific games or sports to bet on, but Titan Bet still manages to cater to a wide range of the gambling population, enough so, that no one will truly feel left out. If gambling on sports is what you would like to try, then there are few options better than Titan Bet.